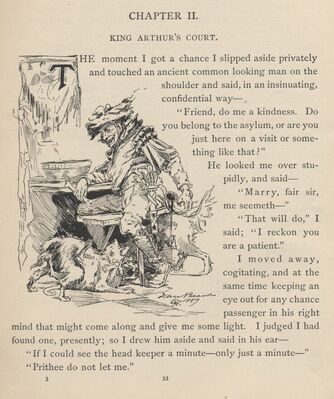 A Connecticut Yankee in King Arthur's Court
is an 1889 novel by American satirist
Mark Twain
.
Description
Edit
The novel is a satirical comedy that looks at 6th-Century England and its medieval culture through the eyes of Hank Morgan, a 19th-century resident of Hartford, Connecticut, who, after a blow to the head, awakens to find himself inexplicably transported back in time to early medieval England at the time of the legendary King Arthur. The fictional Mr. Morgan, who had an image of that time that had been colored over the years by romantic myths, takes on the task of analyzing the problems and sharing his knowledge from 1300 years in the future to modernize, Americanize, and improve the lives of the people.
Morgan uses his knowledge of modern technology to become a "magician" in earnest, stunning the English of the Early Middle Ages with such feats as demolitions, fireworks and the shoring up of a holy well. He attempts to modernize the past, but in the end he is unable to prevent the death of Arthur and an interdict against him by the Catholic Church of the time, which grows fearful of his power.
While the book pokes fun at contemporary society, the main thrust is a satire of romanticized ideas of chivalry, and of the idealization of the Middle Ages common in the novels of Sir Walter Scott and other 19th century literature.
Ad blocker interference detected!
Wikia is a free-to-use site that makes money from advertising. We have a modified experience for viewers using ad blockers

Wikia is not accessible if you've made further modifications. Remove the custom ad blocker rule(s) and the page will load as expected.