Avalon High
is a 2005 novel by Meg Cabot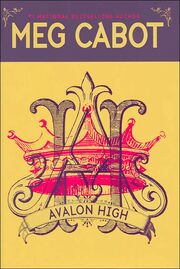 , recasting the legends of Camelot as a high school drama. 
The novel  follows the narration of Elaine or Ellie Harrison. She recently moved to Annapolis, Maryland with her two parents, both of whom are on sabbatical and professors of Medieval studies. Ellie starts her first day at Avalon High and comes across A. William Wagner, someone she had seen briefly in the park a few days before. She and Will become friends, and as such she meets his best friend and girlfriend, Lance and Jennifer. Will seems to be the perfect guy. He's the senior class president, the star quarterback for the football team, and a generally all around nice guy. However, as Ellie soon learns, there are "forces of darkness" who are after Will, believing him to be the reincarnation of King Arthur. It seems that Avalon High has a lot of reincarnations from King Arthur's closest circle. Lance as Lancelot, Jennifer as Guinevere, Marco as Mordred, and Mr. Morton, the World Lit teacher as Merlin. Ellie, herself, is suspected to be the reincarnation of Elaine, the Lily Maid of Ascolat. However, a twist reveals she's not. Instead, she turns out to be someone who could end up saving Will from the forces of darkness that have set out to destroy him.
Characters
Edit
Cavalier- Cavall, Arthur's dog
Interesting Details
Edit
Cabot incorporates various details from a string of Arthurian tales into this novel. For example, Will's father sent his best friend, Marco's father, into a hot zone in Iraq, causing him to be killed. He then married Jean, Will and Marco's mother. This all corresponds to Uther Pendragon killing the Duke of Cornwall and then taking the Duchess of Cornwall, Lady Igraine, as his wife. Will's house is near the Severn bridge. The school's mascot is Excalibur. Will has a very trustworthy dog, Cavalier (Cavall in some stories) that senses a person's personality and intent. Will's boat, the "Pride Winn" is a reference to Prydywn, the boat King Arthur used in one of his quests. 
Other Media
Edit
The sequel to the first novel has been made into a manga with three different parts, or books, with vivid illustrations. Cabot also introduces Morgan le Fey in the sequel.
Disney Channel produced a television movie based on the book in 2010. 
References
Edit
Ad blocker interference detected!
Wikia is a free-to-use site that makes money from advertising. We have a modified experience for viewers using ad blockers

Wikia is not accessible if you've made further modifications. Remove the custom ad blocker rule(s) and the page will load as expected.