Camelot was the film version of the hit Broadway play directed by Joshua Logan after originally being directed onstage in 1960 by Moss Hart. It won 3 Academy Awards along with 3 Golden Globe Awards. The musical itself is by Alan Jay Lerner (book and lyrics) and Frederic Loewe (music). The plot follows T.H. White's book The Once and Future King, which contains material derived from Sir Thomas Malory's Le Morte Darthur. The film runs about 180 minutes and contains 19 musical numbers.
Basic Plot and Themes Presented
Edit
This film tells the story of the marriage of Arthur and Guinevere and the formation of the Round Table in Camelot. King Arthur strives to create the perfect court with the philosophy "might for right." However, the combination of the adultery committed between Lancelot and Guinevere and Mordred's vengeful ways cause King Arthur's chivalrous court to collapse. At the end of the film, prior to the battle between Arthur and Mordred, Arthur knights Tom of Warwick in hopes that he will carry on the legacy of chivalry to future generations.
The credited cast is a fairly large one:
Richard Harris (King Arthur),
Vanessa Redgrave (Guinevere),
Franco Nero (Lancelot Du Lac),
David Hemmings (Mordred),
Lionel Jeffries (King Pellinore),
Laurence Naismith (Merlyn),
Pierre Olaf (Dap),
Estelle Winwood (Lady Clarinda),
Gary Marshal (Sir Lionel),
Anthony Rogers (Sir Dinadan),
Peter Bromillow (Sir Sagramore),
Sue Casey (Lady Sybil),
Gary Marsh (Tom of Warwick),
Nicolas Beauvy (King Arthur as a Boy)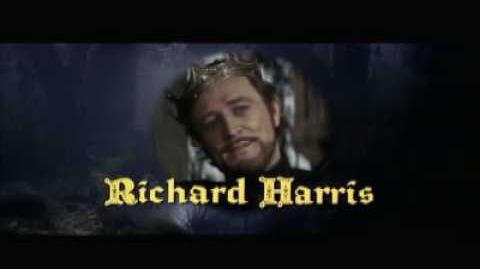 References
Edit
Ad blocker interference detected!
Wikia is a free-to-use site that makes money from advertising. We have a modified experience for viewers using ad blockers

Wikia is not accessible if you've made further modifications. Remove the custom ad blocker rule(s) and the page will load as expected.