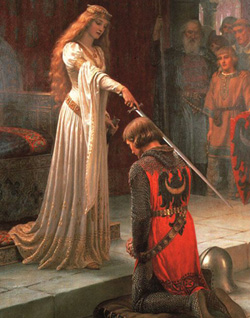 Clarent, is another sword said to have been used by King Arthur but for different purposes than his usual blade, Excalibur. In the Middle English poem, Alliterative Morte Arthure, mention is made of Clarent, a ceremonial sword. This was a sword of peace that Arthur inherited from Uther, and that Arthur used in rituals such as crowning and knighting. However, Clarent is then reportedly stolen and later used by Mordred to deliver the fatal blow to Arthur. (This account of the Alliterative Morte Arthure is preserved in a single copy in the early fifteenth century Lincoln Thornton Manuscript.)
Ad blocker interference detected!
Wikia is a free-to-use site that makes money from advertising. We have a modified experience for viewers using ad blockers

Wikia is not accessible if you've made further modifications. Remove the custom ad blocker rule(s) and the page will load as expected.