Dark Age of Camelot is a 3D medieval fantasy online game, released in 2011. The game combines Arthurian lore, Norse mythology and Irish Celtic legends with a dash of high fantasy. It is set in the period after King Arthur's death and his kingdom has split into three parts which are in a constant state of war with each other.
Players earn experience points towards obtaining levels by killing both monsters and enemy players. Gaining levels yields new skills, abilities, and access to expansion areas.
Each online "realm," Albion, Hibernia, and Midgard, has a unique but parallel storyline. In the original Realm zones, smaller cities in the realm need protection against monsters common to many other RPGs. Albion is menaced by undead raised by Morgana, Hibernia is torn apart by the Unseelie Court and Siabra, and Midgard by the treacherous Blodfelag.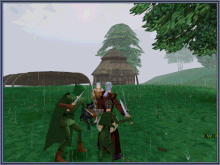 Ad blocker interference detected!
Wikia is a free-to-use site that makes money from advertising. We have a modified experience for viewers using ad blockers

Wikia is not accessible if you've made further modifications. Remove the custom ad blocker rule(s) and the page will load as expected.