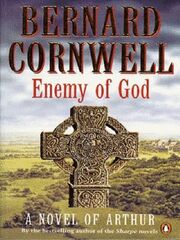 'Enemy of God' is the second book in
Bernard Cornwell
's trilogy –
The Warlord Chronicles
. This series of novels tells the legend of
Arthur
from the point of view of one of his men
Derfel Cadarn
, now an aged Christian monk, who in his earlier days was a warrior in
Arthur
's service. The final novel in the trilogy is
Excalibur
.
Plot Background
Edit
At this stage, Arthur has managed to achieve some level of unity amongst the warring British kingdoms and can now turn his attention to dealing with the invading Saxons. Merlin launches his quest to find the sacred treasures of Britain and is certain that they will harness the power of the old Gods and ensure Arthur's victory. However, Merlin's mission destabilises the peace and Arthur is branded by fanatical Christians as an 'enemy of God'.
Plot Summary
Edit
Arthur continues with his plans to unite Britain and defeat the Saxons. Meanwhile, Derfel has to contend with Arthur's wish that he wed Gwenhwyvach (Guinevere's younger sister). Derfel is smitten by Ceinwyn (sister of Cuneglas, King of Powys) who is in turn promised to Lancelot. Eventually Ceinwyn spurns Lancelot so she can be with Derfel and this creates problems with an already difficult relationship with Lancelot. Following this Derfel and Ceinwyn travel with Merlin to Ynys Mon in search of the cauldron of Clyddno Eiddyn held by the Irish King, Diwrnach in the Kingdom of LLeyn. They successfully obtain the cauldron and manage to evade Diwrnach's forces with assistance from a heavy fog.
Other themes include: confrontations with the Saxon Kings, Cerdic and Aelle; the tale of Tristan and Iseult; difficulties with the crippled Mordred, whom Arthur wishes to be King; Guinevere's unfaithfulness with Lancelot and his attempt to kill Arthur and take the throne; and the treachery and evil deeds of the Druid-twins, Dinas and Lavaine.
Main Characters
Edit
Ceinwyn
Aelle
Dinas
Lavaine
Ad blocker interference detected!
Wikia is a free-to-use site that makes money from advertising. We have a modified experience for viewers using ad blockers

Wikia is not accessible if you've made further modifications. Remove the custom ad blocker rule(s) and the page will load as expected.