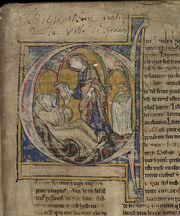 The
Estoire del San Graal
was a literary work from the 13th century. It is the story of
Joseph of Arimathea
brining the
Grail
to Britain.In this story, the Grail is the vessel ('escuele', a bowl) used by Christ at the Last Supper, which Joseph of Arimathea takes from the Upper Room and uses to collect Christ's blood at the Entombment. 
Thereafter follow many adventures and wanderings, in which Joseph and his son Josephé, who becomes the first Christian bishop, achieve many conversions, notably that of King Evalach who takes the baptismal name of Mordrain.  With his brother-in-law Nascien (known as Seraphe until his conversion), Mordrain undergoes many trials in battle, at sea, and on islands, encountering enchanted boats manned in turn by Christ and the devil.
The Estoire branch of the Lancelot-Grail romance is based on a verse text composed c. 1200 by an author who names himself Robert de Boron.  Only one copy of Robert's verse version survives
Ad blocker interference detected!
Wikia is a free-to-use site that makes money from advertising. We have a modified experience for viewers using ad blockers

Wikia is not accessible if you've made further modifications. Remove the custom ad blocker rule(s) and the page will load as expected.