The Fisher King (also sometimes The Maimed King, the Wounded King) was a king encountered during the Quest for the Holy Grail. When he receives his wound his kingdom turns into a desolate Wasteland. He often fishes near his castle Carbonek. He is eventually healed, originally by Percival and in later tales by Galahad.
He is called Pelles in the Vulgate Version, in which the Maimed King is named Parlan or Pellam.
Thomas Malory's Le Morte d'Arthur has four characters fill the role of the Fisher/Maimed King.
Pellem, wounded by Balin with the Dolorous Stroke.
Pelles, grandfather of Galahad, also wounded.
Petchere, King of the Grail Castle.
An unnamed Maimed King, healed by Galahad, and seperate from Pelles.
By Chretien we are told he could not ride as a result of his infirmity, so he took to fishing as a pastime.
Robert de Boron
gives his name as Bron and tells us he earned his title by providing fish for
Joseph of Arimathea
.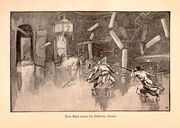 In Sone de Nausay he is identified with Joseph of Arimathea himself.
In Parzival by Wolfram von Eschenbach the Fisher King is called Anfortas, and the Maimed King is named Titurel.
In Perlesvaus he is named Messois.
In Manecier's continuation of Perceval (romance) we are told he was wounded by fragments of a sword which had killed his brother, Goon Desert, and the wound cannot be healed until Goon's death is avenged.