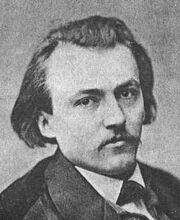 Paul Gustave Doré
(January 6, 1832 – January 23, 1883) was a French artist, engraver, illustrator and sculptor. Doré worked primarily with wood and steel engraving.
Doré was born in Strasbourg and his first illustrated story was published at the age of fifteen. His talent was evident even earlier, however. At age five he had been a prodigy troublemaker, playing pranks that were mature beyond his years. Seven years later, he began carving in cement. Subsequently, as a young man, he began work as a literary illustrator in Paris, winning commissions to depict scenes from books by Rabelais, Balzac, Milton and Dante.
Doré's later work included illustrations for new editions of Coleridge's Rime of the Ancient Mariner, Milton's Paradise Lost, and Tennyson's Idylls of the King
Ad blocker interference detected!
Wikia is a free-to-use site that makes money from advertising. We have a modified experience for viewers using ad blockers

Wikia is not accessible if you've made further modifications. Remove the custom ad blocker rule(s) and the page will load as expected.