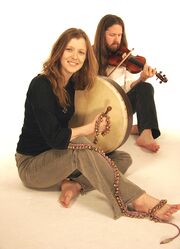 Heather Dale
is an an award-winning Canadian independent musician who has recorded several albums of Arthurian-based music,  and records song that draw their inspiration from the folklore, mythology and history of various 
Celtic
 and non-Celtic cultures. She is recognized in the Society for Creative Anachronism for her outstanding expertise in the Arthurian legends.
She is also the co-writer of the online MMORPG Gates of Camelot and podcasts her own versions of the King Arthur stories, set to original music.
The Trial of Lancelot (2000)
May Queen (2003)
The Green Knight (2009)
Avalon (2010) recordings of the previous Arthurian songs.
The Legends of Arthur, book containing Arthurian short stories by Dale, and the music and lyrics to her songs
Queens of Avalon (2015)
Her song "Mordred's Lullaby" has become a popular YouTube sensation. 
Ad blocker interference detected!
Wikia is a free-to-use site that makes money from advertising. We have a modified experience for viewers using ad blockers

Wikia is not accessible if you've made further modifications. Remove the custom ad blocker rule(s) and the page will load as expected.