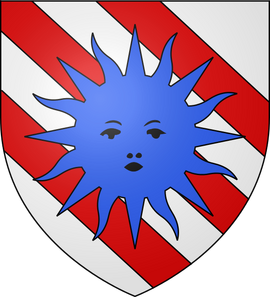 Sir Hector de Maris (or Ector de Maris) is a Knight of The Round Table in the Arthurian legend. He is the younger half-brother of Lancelot and the natural son of King Ban of Benwick and the Lady de Maris. Sir Bors and Sir Lionel are his cousins.
Hector de Maris participates in the Grail Quest, but he is one of the many knights who prove unworthy of achieving the object. In the Quest du Saint Graal of the Vulgate Cycle, Hector and Gawain are traveling together when they come to a ruined chapel where they pass the night. Each has a marvelous dream. The next morning, as they are telling each other their respective visions, they see, "a Hand, showing unto the elbow, and was covered with red samite, and upon that hung a bridle, not rich, and held within the fist a great candle that burnt right clear, and so passed afore them, and entered into the Chapel, and then vanished away, and they wist not where." Jessie Weston found this an "unintelligent" variation on the theme of the perilous Black Hand in other romances in the Grail Cycle.
Hector's adventures in the name of King Arthur were many and wide-ranging. With Sir Morganore, it was Hector de Maris who welcomed Sir Tristram to Camelot when he was shipwrecked nearby. The two jousted in a friendly competition, but Hector was ashamed to have been beaten by a knight of Cornwall. Other times he was more successful at tournaments, getting the better of both Sirs Palomides & Percivale. He, however, failed to defeat Sir Turquine and became one of the knights he imprisoned before being rescued by his brother, Sir Lancelot. He returned the favor by rediscovering the lost Knight of the Lake after his period of insanity and returning him to Court.
He is known to have had a long relationship with Lady Perse of the Narrow Borderland, whose fiancé he murdered in order to be with her. Hector later had an affair with the cousin of the Lady of Roestoc, before being reunited with Perse.
When Lancelot is caught in his affair with Guinevere, Hector stands by his brother and leaves court with him. He becomes one of Lancelot's top generals, participating in the battle to rescue the queen at her execution, and the defense of Joyous Guard. Like all his family, he joins Lancelot in France when they are expelled from Arthur's kingdom, and he helps defeat the army led by Mordred's sons after the Battle of Camlann. He was the last knight to join his brother at the Archbishop of Canterbury's hermitage and apparently died there before the others left on crusade.
There is another Hector in Arthurian legend, Sir Ector, the father of Sir Kay and foster father of King Arthur.
Ad blocker interference detected!
Wikia is a free-to-use site that makes money from advertising. We have a modified experience for viewers using ad blockers

Wikia is not accessible if you've made further modifications. Remove the custom ad blocker rule(s) and the page will load as expected.