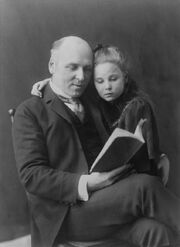 Howard Pyle (1853-1911) was a notable illustrator and author of children's books, including four volumes of 'Arthurian Legends" and many memorable Arthurian legend images. He attended Friends' School in Wilmington, but, Pyle himself later recalled, "he spent his time largely in scrawling drawings on his slate and in his books". Realizing their son's lack of interest in studying, the Pyle's gave up their idea of sending Howard to college and instead his mother encouraged him to study art. At sixteen he began three years of daily commutes to Philadelphia in order to study under the Belgian artist Van der Weilen. These classes would be the only systematic training in art that Pyle would receive and provided a solid foundation in the technique of drawing.  His early illustrations, short stories and poems appeared in the leading New York periodicals in 1876-79. He was a well known artist and writer for Harpers Weekly. Pyle devoted his art work almost entirely to the production of illustrations which appeared in periodicals and books. In 1910, Howard Pyle relocated his family to Florence, Italy where he hoped to study and pursue the painting of murals. In November of 1911, he suddenly became ill and died of a kidney infection at the age of 58. His ashes were interred there.
Arthurian Works
Edit
The Story of the Champions of the Round Table
The Story of Lancelot and his Companions
The Story of the Grail and the Passing of Arthur
Ad blocker interference detected!
Wikia is a free-to-use site that makes money from advertising. We have a modified experience for viewers using ad blockers

Wikia is not accessible if you've made further modifications. Remove the custom ad blocker rule(s) and the page will load as expected.