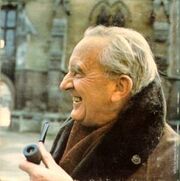 John Ronald Reuel Tolkien,
CBE (3 January 1892 – 2 September 1973) was an English writer, poet, philologist, and university professor, best known as the author of the classic high fantasy works
The Hobbit, The Lord of the Rings
, and
The Silmarillion.
His academic works, On Faerie Stories and Beowulf: The Monsters and the Critics are both seminal efforts in the emerging field of fantasy literature. 
Arthurian Work
Edit
Ad blocker interference detected!
Wikia is a free-to-use site that makes money from advertising. We have a modified experience for viewers using ad blockers

Wikia is not accessible if you've made further modifications. Remove the custom ad blocker rule(s) and the page will load as expected.