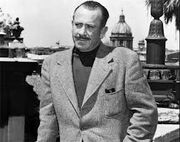 John Steinbeck (1902-1968), born in Salinas, California,  was an American writer. He wrote the Pulitzer Prize-winning novel The Grapes of Wrath, published in 1939 and the novella Of Mice and Men, published in 1937. In all, he wrote twenty-five books, including sixteen novels, six non-fiction books and several collections of short stories. 
In 1962 Steinbeck received the Nobel Prize for Literature. Steinbeck grew up in the Salinas Valley region of California, a culturally diverse place of rich migratory and immigrant history. This upbringing imparted a regionalistic flavor to his writing, giving many of his works a distinct sense of place.  
He began writing The Acts of King Arthur and His Noble Knights in 1956, but it was left unfinished at his death and published posthumously in 1976. 
Ad blocker interference detected!
Wikia is a free-to-use site that makes money from advertising. We have a modified experience for viewers using ad blockers

Wikia is not accessible if you've made further modifications. Remove the custom ad blocker rule(s) and the page will load as expected.