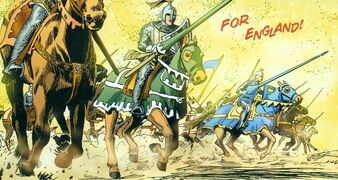 Knight is the English term for a social position originating in the Middle Ages. In the Commonwealth of Nations, knighthood is a non-heritable form of gentry. Elsewhere, the Spanish Caballero (related to "chivalry"), theItalian Cavaliere, the German Ritter (related to the English word "Rider" and the Swedish word Riddare), or the Polish Kawaler (for Modern Era knighthoods or Rycerz for medieval knighthoods) are commonly used in Continental Europe. Outside the British Commonwealth, the title is respected but may carry less significance, and thus may or may not appear, for example, in the mass media and other publications. There are technically differing levels of knighthood, but in practice these are even more symbolic than the title itself today and thus only express the greatness of the recipient's achievements in the eyes of the Crown.
The British legend of King Arthur, popularized throughout Europe in the Middle Ages by Geoffrey of Monmouth in his Historia Regum Britanniae ("History of the Kings of Britain") written in the 1130s, and Sir Thomas Malory's Le Morte d'Arthur (The Death of Arthur) written in 1485, were important in defining the ideal of chivalry which is essential to the European ideal of the knight as an elite warrior sworn to uphold the values of faith, loyalty, courage and honor such as Knights Templar.
Ad blocker interference detected!
Wikia is a free-to-use site that makes money from advertising. We have a modified experience for viewers using ad blockers

Wikia is not accessible if you've made further modifications. Remove the custom ad blocker rule(s) and the page will load as expected.