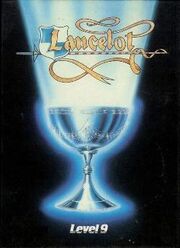 Lancelot is a 1988 text based adventure game by Level 9. It recreates the time of wizards and the Knights of the Round Table in their greatest adventure yet. Lancelot is a three-part adventure, spanning the complete saga from the foundation of the Order to its finest hour - the quest for the Holy Grail. Players guide Lancelot through his many exploits at Camelot, battle with wayward knights, and win the love of Guinever and Elaine.
Ad blocker interference detected!
Wikia is a free-to-use site that makes money from advertising. We have a modified experience for viewers using ad blockers

Wikia is not accessible if you've made further modifications. Remove the custom ad blocker rule(s) and the page will load as expected.