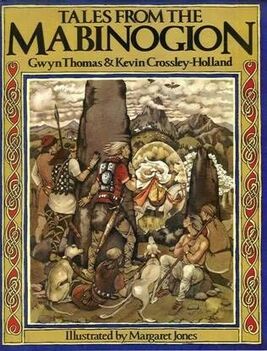 The Mabinogion
was a collection of twelve tales from the Welsh myths. The tales of the Mabinogion were preserved in two manuscripts,
White Book of Rhydderch
(c. 1325) and the
Red Book of Hergest
(c. 1400).  
The Mabinogion was first translated into English by Lady Charlotte Guest. It was Lady Charlotte who gave the title of "Mabinogion" to this collection of tales.  The tales from the Mabinogion can be divided into three categories. The first four tales belonged to the Four Branches of the Mabinogi ("Pedair Cainc y Mabinogi"). The next five were the Independent tales, two tales of which Arthur appeared in the scene. While the last three tales falls into a category known as the Welsh romances, similar to those of the French romances written by Chretien de Troyes.  
Four Branches of Mabinogi Three Welsh Romances
Pwyll Lord of Dyved
Branwen Daughter of Llyr
Manawyddan Son of Llyr
Math Son of Mathonwy
Five Independent Tales
The Dream of Maxen
Lludd and Llevelys
The Dream of Rhonabwy

Three Welsh Romance