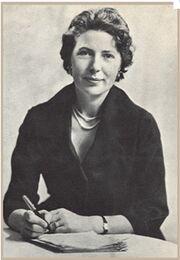 Mary Florence Elinor Stewart is a popular English novelist best known for her historical fantasy trilogy based on
Merlin
. She was born on the 17th September, 1916 in Sunderland, County Durham. Before her marriage in 1945, she was a lecturer in English Language and Literature. In 2009, she received an honorary D. Litt from Durham University. Her husband, Sir Frederick Stewart, a former chairman of the Geology Department of Edinburgh University, died in 2001.

The three novels in what became known as The Merlin Trilogy – The Crystal Cave (1970), The Hollow Hills (1973), and The Last Enchantment (1979), were later added to forming a five-book series. The latter two were 'The Wicked Day (1983)' and 'The Prince and the Pilgrim (1995)'. From the 1960s through to the 1980s, Stewart's Merlin books were very popular, a success following on from the publication of T. H. White's 'The Once and Future King' and also from the US presidency connection with Camelot under John F. Kennedy. In later years, her novels were again reprinted and there was a resurgence in her popularity as an Arthurian tales author.
Mary Stewart has also written many books in the romantic suspense subgenre. For more information please go to Wikipedia: Mary_Stewart.
Ad blocker interference detected!
Wikia is a free-to-use site that makes money from advertising. We have a modified experience for viewers using ad blockers

Wikia is not accessible if you've made further modifications. Remove the custom ad blocker rule(s) and the page will load as expected.