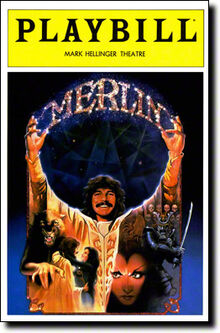 Merlin was a 1983 musical by popular illusionist Doug Henning and Barbara De Angelis, written by Richard Levinson and William Link, with music by Elmer Bernstein and lyrics by Don Black. It ran 199 performances and a very long run of 69 preview performances. It was nominated for Tony Awards for Best Musical, Best Score, Best Book, Best Actress, and Best Direction.
The show was largely a showcase for Henning as an iluusionist, and the story focused on the legendary wizard Merlin as a young man, still an a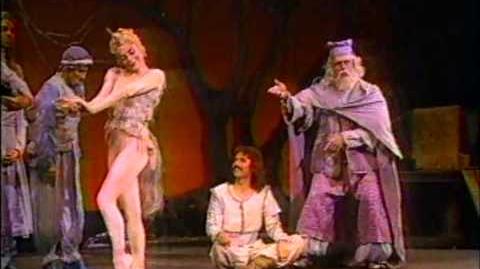 pprentice learning the rules of magic. During the production number "Put a Little Magic in Your Life", Henning mounted a white horse and rode it into a gigantic box, which was then closed and hoisted into the air above the stage. In midair, the box suddenly broke open, turning out to be empty. A moment later, Henning appeared at the opposite edge of the stage, still mounted on a horse. In another scene, Henning levitated and flew above the stage with no visible support. In full view of the audience, several large pieces of armor were assembled into a giant warrior, which immediately began walking and wielding a sword even though the armor had no discernible human occupant.
Ad blocker interference detected!
Wikia is a free-to-use site that makes money from advertising. We have a modified experience for viewers using ad blockers

Wikia is not accessible if you've made further modifications. Remove the custom ad blocker rule(s) and the page will load as expected.