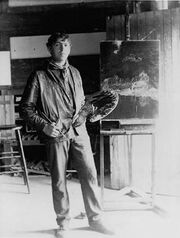 Newell Convers Wyeth
(1882–1945), known as N.C. Wyeth, was an American artist and illustrator. During his lifetime, Wyeth created over 3,000 paintings and illustrated 112 books. Wyeth was a realist painter just as the camera and photography began to compete with his craft. Sometimes seen as melodramatic, his illustrations were designed to be understood quickly. Wyeth, who was both a painter and an illustrator, understood the difference, and said in 1908,
"Painting and illustration cannot be mixed—one cannot merge from one into the other."
His Arthurian works, starting with 1880's Boy's King Arthur are some of the best known images of the Matter of Britain in the modern era. 
Ad blocker interference detected!
Wikia is a free-to-use site that makes money from advertising. We have a modified experience for viewers using ad blockers

Wikia is not accessible if you've made further modifications. Remove the custom ad blocker rule(s) and the page will load as expected.