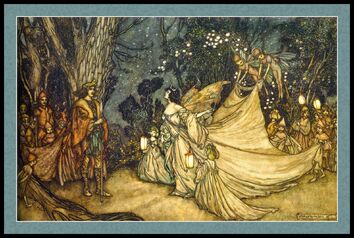 Oberon is the king of the fairies. In some versions of the tale he is the son of Julius Caesar and Morgan le Fay. Edmund Spenser makes him the father of Gloriana in The Faerie Queen, with whom King Arthur falls in love. Shakespeare transposes him to Greece for the play A Midsummer Night's Dream. 
Ad blocker interference detected!
Wikia is a free-to-use site that makes money from advertising. We have a modified experience for viewers using ad blockers

Wikia is not accessible if you've made further modifications. Remove the custom ad blocker rule(s) and the page will load as expected.