The Adventures of Sir Lancelot
is a British television series first broadcast in 1956, It starred William Russell as Sir
Lancelot
, a Knight of the Round Table in the time of King
Arthur
at
Camelot
.
The series debuted in September 1956. It is one of the very few British television series ever to have been screened on one of the major broadcast networks in the US. Its success on NBC led to it becoming the first British television series ever to be produced in color, the last fourteen of the thirty episodes being shot on color stock, although they were seen in color only in the US.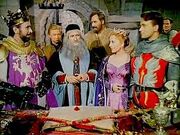 As was common with other British television series of the time, the program employed several American screenwriters who had moved to Britain after being placed on the Hollywood blacklist,
While the program was often light hearted, it did draw inspiration from Arthurian themes. Villains included Saxons and Accalon.
One episode Sir Crustabread loosely adapted Gareth and Lynette, using Lancelot in the place of Gareth, disguised as a humble baker.
Ad blocker interference detected!
Wikia is a free-to-use site that makes money from advertising. We have a modified experience for viewers using ad blockers

Wikia is not accessible if you've made further modifications. Remove the custom ad blocker rule(s) and the page will load as expected.