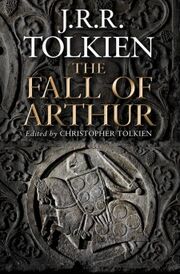 The Fall of Arthur
is the title of an unfinished poem by
J.R.R. Tolkien
, concerned with the legend of
King Arthur
. The posthumous publication of an edition of the poem was announced by HarperCollins in 2012.
The poem is alliterative, extending to close to 1,000 verses imitating the Old English Beowulf metre in Modern English. Though inspired by high medieval Arthurian fiction, the historical setting of the poem is early medieval, both in form (using Germanic verse) and in content, showing Arthur as a Migration period British military leader fighting the Saxon invasion. While it avoids the high medieval aspects of the Arthurian cycle (such as the Holy Grail, and the courtly setting), it does include Lancelot.
The poem begins with a British "counter-invasion" to the Saxon lands- "Arthur eastward in arms purposed".
The published book contains several short writings by Christoher Tolkien, Tolkien's son, literary executor, and editor, discussing the place The Fall of Arthur holds in relation to other works of Arthuriana.
Ad blocker interference detected!
Wikia is a free-to-use site that makes money from advertising. We have a modified experience for viewers using ad blockers

Wikia is not accessible if you've made further modifications. Remove the custom ad blocker rule(s) and the page will load as expected.