The Knight of the Parrot (La Chevalier du Papegau) is a French romance written in the late fifteenth or early sixteenth century. The first English translation was published in 1986 by Thomas E. Vesce.
The story concerns adventures of a young King Arthur armed with his famous sword Excalibur, in this story called "Chastiefol." The novel begins on the day of Pentecost when Arthur was crowned in the city of Camelot.  Arthur is accompanied on his journey by a winged companion, a papegau, a type of parrot very popular with lords in medieval times due to its scarcity and its qualities, aesthetic, linguistic and loyalty. The parrot provides a running and often sarcastic commentary on the story's events.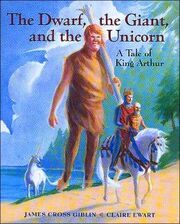 During his adventures, Arthur encounters a sea-monster who is like a mounted knight, a dwarf with a gigantic son who has been suckled by a unicorn, a bridge protected by rotating knives, and the beautiful Lady with Blonde Hair who urges him to do his worst in a tournament. 
The last adventure was adapted into the children's book The Dwarf, The Giant, and the Unicorn by James Cross Giblin.
Ad blocker interference detected!
Wikia is a free-to-use site that makes money from advertising. We have a modified experience for viewers using ad blockers

Wikia is not accessible if you've made further modifications. Remove the custom ad blocker rule(s) and the page will load as expected.