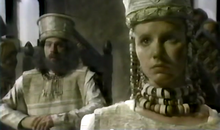 The Legend of King Arthur was a 1979 British television series written by Andrew Davies that ran seven episodes. It was released on VHS in abridged form in 1984.
Actor David Robb would go on to play Lancelot again in Morte d'Arthur (1984).
Robert Eddison would later play the Grail Knight in Indiana Jones and the Last Crusade.
Ad blocker interference detected!
Wikia is a free-to-use site that makes money from advertising. We have a modified experience for viewers using ad blockers

Wikia is not accessible if you've made further modifications. Remove the custom ad blocker rule(s) and the page will load as expected.