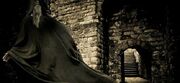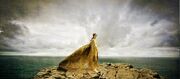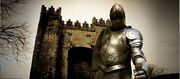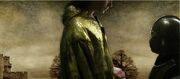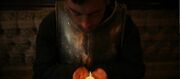 The Once and Future King by T.H. White was adapted to radio on BBC 4 by Brian Sibley in the Fall of 2014.  The story is framed with the plot of The Book of Merlyn, where Merlyn comes to Arthur on the eve of the Battle of Camlann, and the two discuss where the went wrong.
The Coming of Merlyn
The Sword in the Stone
The Queen of Air and Darkness
The Ill-Made Knight
The Lengthening Shadow
A Candle in the Wind
Arthur Paul Ready
Merlyn David Warner
Guenever Lyndsey Marshal
Lancelot Alex Waldmann
Mordred Joel MacCormack
Queen Morgause

Kate Fleetwood
King Lot

Michael Bertenshaw
Archimedes

Bruce Alexander
Elaine Hannah Genesius
Gawaine, the Pike Shaun Mason
Gareth Monty d'Inverno
Morgana Le Fay

Jane Slavin
Kay

Paul Heath
Dame Brisen, The Badger

Elaine Claxton
Uncle Dap, King Pellinore

Sam Dale
Holy Woman

Roslyn Hill
Agravaine Ian Conningham 
Sir Grummore Grummursum

David Acton
Directors Gemma Jenkins, Marc Beeby, David Hunter
Ad blocker interference detected!
Wikia is a free-to-use site that makes money from advertising. We have a modified experience for viewers using ad blockers

Wikia is not accessible if you've made further modifications. Remove the custom ad blocker rule(s) and the page will load as expected.