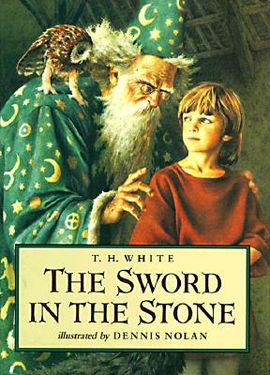 The Sword in the Stone is a novel published by T. H. White in 1938. It was originally a stand-alone work, but was adapted into the first part of his tetralogy The Once and Future King. A fantasy of the boyhood of King Arthur, it is a sui generis work which combines elements of legend, history, fantasy and comedy. Walt Disney Productions adapted the story to an animated film, and the BBC adapted it to radio.
Plot SummaryEdit
The story chronicles the adventures of King Arthur in his younger days (he was called Wart in the story), up until he pulls the sword from the stone. Early on in the story he meets Merlin who turns him into animals. Merlin uses this as a teaching method, for every time Wart returns to being a human he has gained some knowledge. Wart also has human adventures, including one with the famous Robin Hood (known as Robin Wood in the novel). Despite all of his lessons and adventures, Wart goes throughout the whole story under the impression that he is destined to be the squire of his older brother, Sir Kay. It is not until the end of the story when he pulls the sword from the stone that he is made aware of his lineage. Merlin informs him that Uther Pendragon was his father and he is the rightful king of Britain. Merlin ends by saying that from now on Wart will be known as King Arthur.
CharactersEdit
Film VersionEdit
The Sword in the Stone (1963) (film) (animated) was made by Walt Disney Productions and released on December 25, 1963.
Ad blocker interference detected!
Wikia is a free-to-use site that makes money from advertising. We have a modified experience for viewers using ad blockers

Wikia is not accessible if you've made further modifications. Remove the custom ad blocker rule(s) and the page will load as expected.