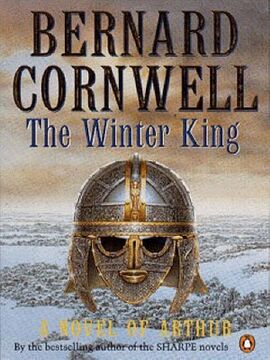 The Winter King and its two sequels are written from the point of view of Derfel Cadarn, an aged Christian monk, who in his early days was a warrior in the service of King Arthur. Derfel is writing the story at the request of Queen Igraine, who is the wife of King Brochvael of Powys (and also the namesake of Queen Igraine, mother of Arthur).
Plot Background
Edit
This novel and its sequels Enemy of God and Excalibur comprise The Warlord Chronicles. The trilogy is set in the fifth/sixth century and is a realistic Dark Age version of the legend of Arthur. No 'Knights in Shining Armour' and jousting tournaments here, the tale is gritty and convincing of that era. Bernard Cornwell has done his research and artfully integrates Arthurian history and legends with the hardships that warriors, kings and commoners faced in that time. Cornwell describes the perils and bloodshed of a shield wall better than any other author.
Plot Summary
Edit
The story begins with the birth of Mordred , a crippled child, who in this version is Uther's grandson (and the son of Uther's deceased son, also named Mordred). Uther dies soon afterwards and chaos rules as many of the kings fight amongst themselves for power. At this stage, Merlin, a Druid, has not been seen for some time. Arthur returns from Armorica (in France) and becomes a good friend of Derfel and makes him one of his battle commanders.
Merlin eventually arrives on the scene. His main interest lies in locating the Thirteen Treasures of the Island of Britain – ancient items such as a sword, a knife, a coat, a cauldron, etc… that he believes will help bring the Gods back and help Britain resist the invading Saxon tribes. Arthur causes turmoil by rejecting a princess named Ceinwyn to whom he was betrothed after he falls for Guinevere. This broken betrothal causes instability, divides kings and incites wars. Arthur then marries Guinevere, and later, Derfel meets Ceinwyn and falls in love with her, swearing an oath to protect her.
Other characters in Cornwell's tale include Lancelot and, in this version, his half-brother Galahad. While Galahad is a strong upright fellow with noble characters, Lancelot is portrayed as an underhanded, cowardly, arrogant and scheming individual.
The closing chapters in this book focus on a major battle against a King Gorfyddyd in Powys whereby Arthur and Derfel receive help from Prince Tristan of Kernow. When it appears defeat is looming, Merlin advises that the Black Shield Irishmen would switch sides to fight Gorfyddyd's forces, and Arthur's army is eventually victorious.
Main Characters
Edit
Ad blocker interference detected!
Wikia is a free-to-use site that makes money from advertising. We have a modified experience for viewers using ad blockers

Wikia is not accessible if you've made further modifications. Remove the custom ad blocker rule(s) and the page will load as expected.