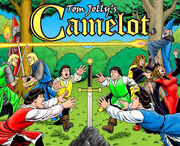 Camelot
designed by Tom Jolly is a board game where players control multiple "Arthurs" and other legendary characters to try and pull
Excalibur
from the stone.  On the surface, the game appears to be a very simple wargame, combat being quickly resolved without any dice as characters fight each other. The key to the game, however, is that two players are always taking turns at the same time, the turns being regulated by "turn tokens" that pass around the board.  This forces players to take very fast turns, usually about 5 seconds each, allowing the game to move along with the intensity of a video game. Games usually take 20 to 30 minutes to play, even with three to six players. 
Ad blocker interference detected!
Wikia is a free-to-use site that makes money from advertising. We have a modified experience for viewers using ad blockers

Wikia is not accessible if you've made further modifications. Remove the custom ad blocker rule(s) and the page will load as expected.