Tristan & Isolde is a 2006 romantic drama film based on the medieval romantic legend of Tristan and Iseult. It was produced by Ridley and Tony Scott, directed by Kevin Reynolds. It is based on the Tristan legend, but reworks several key aspects of the story to avoid magic and mysticism.
After the fall of the Roman Empire, weak Britain is divided into several clans, while the powerful Ireland, untouched by the Romans, dominates and ravages the British tribes. The just British leader, Marke, meets with the other clan chiefs to try to unite the country, but they are attacked and slaughtered by the Irish army headed by Morholt. Marke loses one hand protecting the young Tristan, who had just lost his parents, and Marke raises the boy as if he were of his blood. Years later, after another attack by the Irish forces, Tristan rescues his people, who had been captured to serve as slaves, and kills the brutal Morholt, to whom the beautiful Irish princess, Isolde, had been promised in marriage. Tristan is poisoned by the sword of Morholt, declared dead by his mates, and put on a boat as part of his funeral. The ship floats out to sea, and lands on the Irish shore.
Isolde, along with her maid-servant, Bradnae, finds the boat with Tristan in it, and hides him in a hut, where she nurses him back to health. In the process, they fall in love with each other, but with Isolde concealing her identity from Tristan. When Tristan is about to be discovered by Irish guards, he escapes by boat back to Britain to avoid being captured and killed. Isolde's father, King Donnchadh, together with the British traitor Wictred, declares a joust as part of a plan to divide the British and make Wictred king, by promising the hand of Isolde to the winner.
However, Tristan wins the tournament. Without knowing that Isolde is his love, Tristan offers her to Marke, in order to make Marke king and thus unify the British clans. When Tristan sees who Isolde is, he must decide between his friendship and loyalty to Marke and his love for Isolde.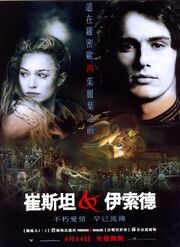 James Franco as Tristan
Sophia Myles as Isolde
Rufus Sewell as Lord Marke of Cornwall
Mark Strong as Lord Wictred
Henry Cavill as Melot
David O'Hara as King Donnchadh
Bronagh Gallagher as Bragnae
Thomas Sangster who plays Young Tristan also played Auerilus/Pendragon in The Last Legion
Ad blocker interference detected!
Wikia is a free-to-use site that makes money from advertising. We have a modified experience for viewers using ad blockers

Wikia is not accessible if you've made further modifications. Remove the custom ad blocker rule(s) and the page will load as expected.