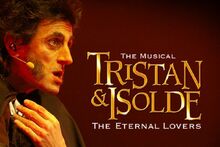 Tristan and Isolde (sometimes subtitled The Eternal Lovers) is a 2015 musical theater retelling of the story directed by Alan Simon and choreographed by Ciaran Devlin.
An international production with a symphonic orchestra, a band of seven musicians, three actors-singers, one actor, twelve talented Irish dancers, eight knights, and, portaying Tristan and Isolde, two soloist dancers: Maria Mysheva and Denis Dmitriev; and two singers: Celtic soprano Siobhan Owen and the Roberto Tiranti.
The show is directed by Alan Simon, who performs on stage the role of King Marc'h , King of Cornwall and adoptive father of Tristan.
PLOT SUMMARY Edit
After defeating the monstrous Morholt, young Tristan, coming from Brittany, is proclaimed champion of the kingdom by King Marc'h who quickly considers him as the son he never had. But deadly injured during the fight, Tristan secretly leaves Cornwall to die far from King Marc'h whom he loves so much...
Tristan is discovered half-dead on the shores of the green island by the beautiful Isolde, daughter of Donnegahn, king of Ireland and worst enemy of King Marc'h.
Incantations, spells and charms from the beautiful girl resurrect the champion of Cornwall. Tristan and Isolde become one. Far from the world, they enjoy an absolute love. But the romance will be short lived. King Donnegahn's warriors keep a watch on the Irish coasts. Sick at heart, Isolde sends Tristan back to Wales.
Back to King Marc'h's court, Tristan is celebrated as the hero who defeated death. During the festivities, the king – widower for years – announces the end of the fratricidal war that lasted for years between Cornwall and Ireland. And to seal the reconciliation between the two countries he will marry with Isolde, King Donnegahn's daughter.
To fetch his future wife from Ireland, King Marc'h sends the only man he trusts: Tristan, his adoptive son, his champion and his friend…This so beloved son who, more than ever, doesn't dare to reveal his love for Isolde.
Ad blocker interference detected!
Wikia is a free-to-use site that makes money from advertising. We have a modified experience for viewers using ad blockers

Wikia is not accessible if you've made further modifications. Remove the custom ad blocker rule(s) and the page will load as expected.